Dear Fashionistas,
I have never been to Asia before this past week (except for Maldives, if that's in Asia?). Shanghai was my first Chinese city experience and it was nothing like I expected. Back in the US, we are so used to space, our own language, and especially our own food. There is a reason we love our country and that's because we can stay inside our little boxes and never really have to branch out. Shanghai was definitely stepping out of the box for me, but not in a negative way at all. I got to see and talk to so many different people. Sometimes it was hard to communicate, (I did have to play charades a few times), but other than a few times, everyone was welcoming and spoke English to me as best they could. Even if their English was barely passable or not even understandable, I still appreciated the effort; I mean if they came to the States would I be trying out my Chinese on them? That's one thing that I believe us Americans are so deprived of is learning how to communicate with other cultures and people, since everyone caters to us (me included in my 3rd grade level Spanish). Shanghai's downtown area was way different from any city I had ever been too. If you multiply New York City by three and make every building over 40 stories high, that's Shanghai. I've never been to a city this gigantic before, 30 million people!!!! That was such a cool experience. I used to think LA of New York real estate was expensive, but 2-3,00 $$$ a square meter? That's about 1-2 million every thousand square feet. There are just so many people, that the cost of living is so much greater.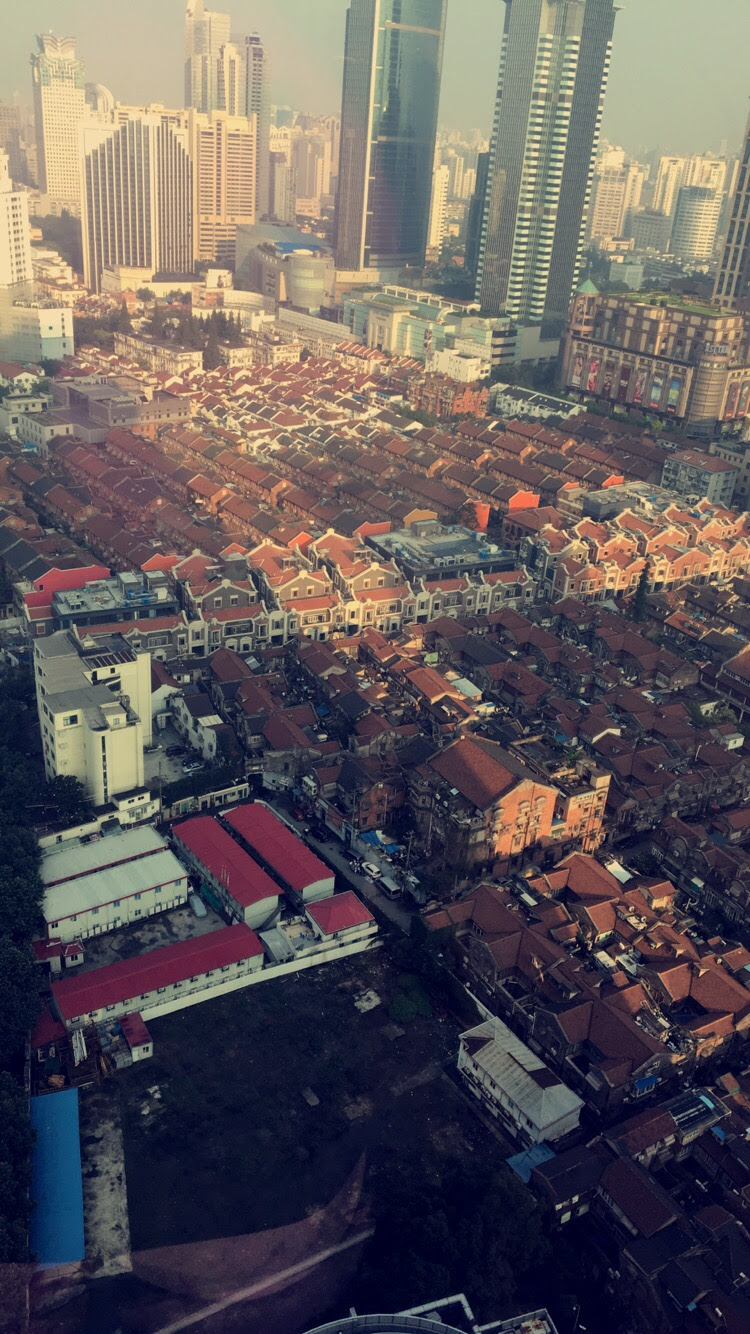 I took this picture from my hotel window, below you see some of the nicest town houses and apartments. No big backyards there! As high as the cost of living is though, the communities do as best they can to keep everyone afloat. Like the restuarants- we went our to one of the nicest in the city and ordered for eight really hungry people, 10 not-so hungry. We ended up buying dinner for 20% of what it would have been back home. Now the food was a struggle at first. I was a little terrorized with knowing the stereotypical Chinese meal of fried dog and cat for dinner, but this was never the case. Luckily I never saw a dog or cat on a menu or that manager would have had a big problem;) The hardest part was just learning what everything was, but once I found the things I liked, I thought the food was great. My favorites were frittatas for breakfast and some devilish   little donuts that were way to enticing. For lunch was normally some type of dim sum- a Shanghainese specialty. Little steamed buns with filling inside. Spinach, mixed vegetable, chicken, and spicy crab were my favorites. 

Dinner was always pretty American since we stayed at such a Western hotel. Whenever there is a Four Seasons establishment I always stay there, ever since I was a little girl. The thing that probably shocked me the most about Shnaghai was the cleanliness. I was expecting with 30+ million that the streets would be lined with trash. But every public place, restuarant, hotel, and even most of the streets were close to spotless. A lot of things really took me by surprise, especially the parks. The public parks are beautiful, about every sport field or court is in peak condition. My favorite part about Shanghai had to be that breathtaking skyline. I could stare at the urban area for hours, night or day! One of the most beautiful views we had was when we went to Lost Heaven for dinner. The vibe was like vinatge Chinese meets the glitz and glam of the 20s, with its velvet couches and four story, temple like structure. 

The rooftop bar was amazing and was in the center of the city!! It couldn't have gotten any better. For such an awesome day and night out, full of shopping the Chinese markets- 


to an extravagant Chinese dinner, my first experiences in Shanghai were unbelievable inspiring. I became so into the culture and the language- I now can say thank you, hello, and how are you all in Mandarin! I would definitely go back to Shanghai in a heartbeat.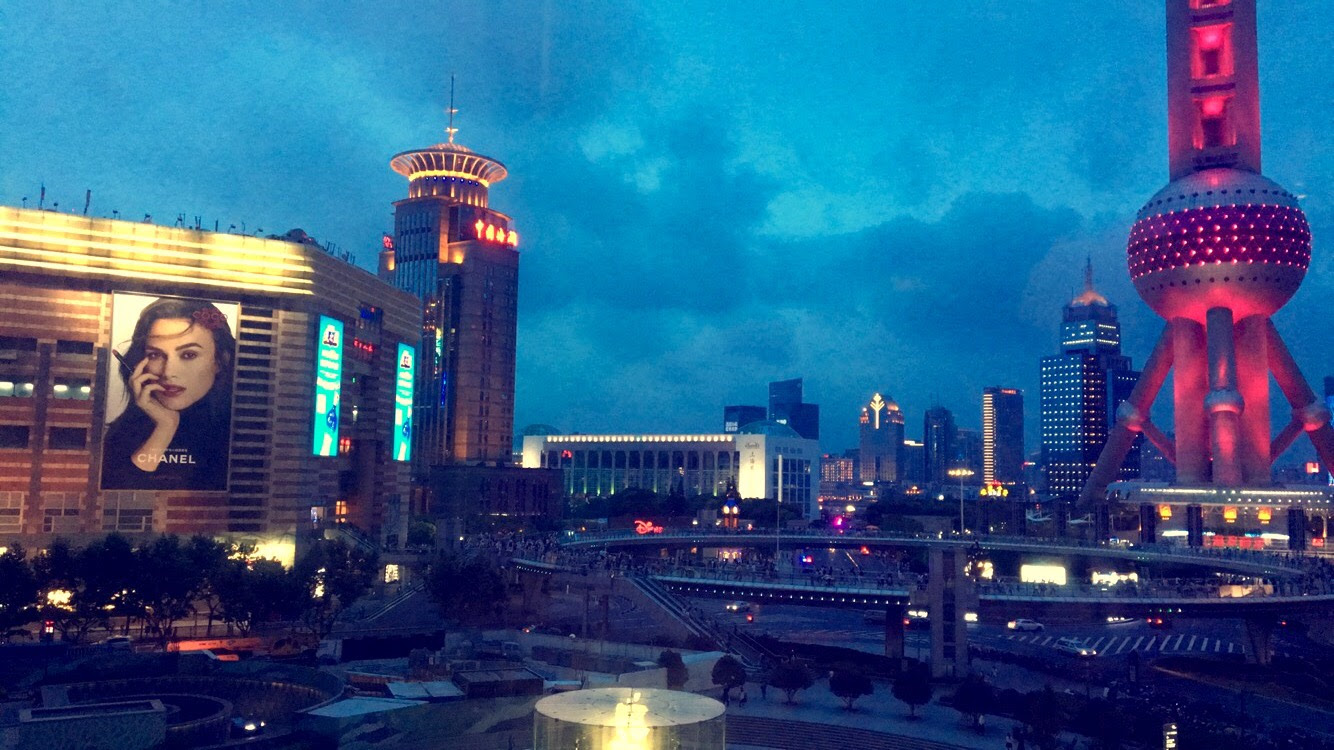 Now down to business (is fashion even budiness, it's too fun to be). I have been a fan of the brand Style Stalker for a few years now! It's one of the only brands that fit my petite physique perfectly, everytime. Colorful prints and vibrant colors are always in for the warmer weathered months, so a Style Stalker romper is one of my go-to's. For a sweltering, sightseeing filled day in Shanghai, I wore this tropical, royal blue and white floral onsie. With its mostly open back and sleeveless arms, it made walking around the huge, 80% humidity city such a breeze. I added some Ray-Ban sunnies, that coincidencently had these awesome polarized blue lenses! I knew I was going to be walking a ton, welcome to a city with 30 million people- you would think traffic couldn't get any more nightmarish then LA or New York right? WRONG!!!! So I copped out of wearing the cute stilettos I had originally planned on, and threw on my steady white and cork wedges. Of course I had to have a pop of pink, so I carried around my chevron Yves Saint Laurent crossbody.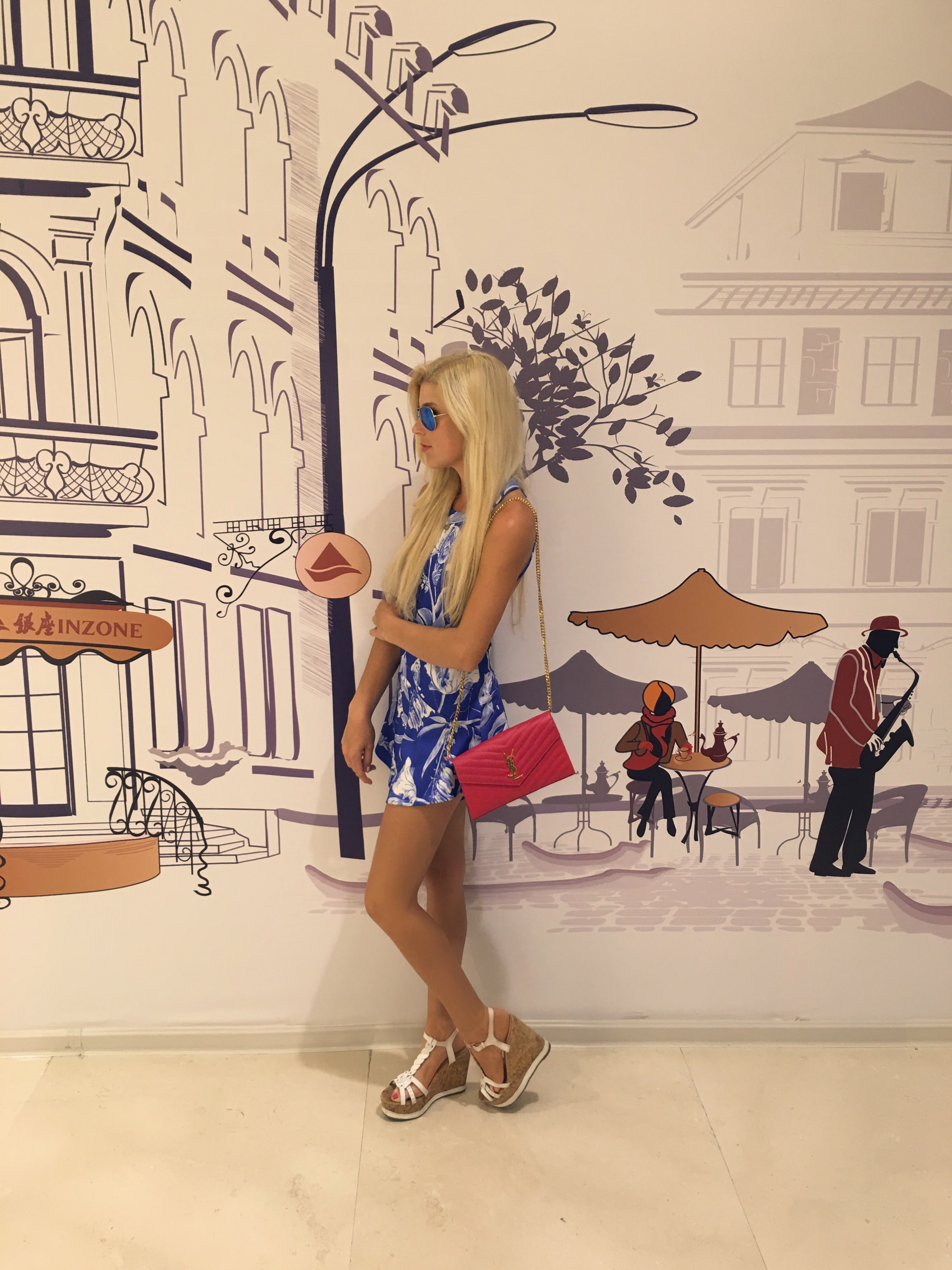 I hope you all get the chance to visit Shanghia! More to come of my Asia adventure. Zàijiàn! 
Love,
KT