Dear Fashionistas,
Singapore is one of my favorite cities I have ever been too, for many reasons. The first, is my hotel. Staying at a Four Seasons Hotel is always luxury, but this particular city hotel was even better than most of their resorts I have been to. Twenty stories high, we were situated on the nineteenth floor. From our living room area, we could see most of Singapore's modern skyscrapers and two of the four hotel tennis courts. I thought this view was stunning during the day, but just wait till dusk.


Not only were the views incredible, but our room was too. It had the classic luxury touch, with two large living room/media areas, a kitchenette, a dining table, and two master bed and bathrooms. When booking the Four Seasons Hotel, we knew what a nice room we had, but what we were not prepared for was the service. Staying at so many hotels, even though the rooms may be nicer than yours at home, after a while you still get homesick. The best thing about staying in a Four Seasons hotel, for me personally, is I never feel far away from home. The second my car pulled in the driveway, my door was opened for me and I was greeted by name. As I walked into the bustling lobby, a staff member was waiting for me and whisked me to the front desk to check-in. As I was completing the check-in process the manager came and introduced himself to me. He then escorted me to my room, and gave me the rundown about all of the hotel and room amenities.  After unpacking a bit of my extremely huge, body-bag styled suitcases, I went down to the concierge desk. Of course there too, I was welcomed by name. The concierge clerk told me which malls to go to, which sites to see, and which restaurants to eat. Every recommendation I was told was spot on. The ION Orchard, an eight story mall filled with all of a shopaholics hopes and dreams was less than a five minute walk from the desk where I was standing. Then the Shoppes at the Marina Bay Sands hotel were not far away either, but had higher quantity of the top designer brands than the ION. The most insane difference between both of these shopping malls and that of any others in the world, is the size. Have you ever been to a three story Chanel Store? How about two that were in the same shopping Centre. Yes, I am not fabricating this, two three story Chanel stores within a block of each other. This went for every major brand as well, from Louis Vuitton, to Prada, Celine, Valentino, Hermes, and Saint Laurent. It was paradise and torture all at the same time. Making my way from the ION to Bay Sands shopping mall, I was welcomed with the sight of a little Venice. On the ground floor of the mall, there was a little river that had gondolas taking shoppers around the mall- that's how ginormous the mall is!!!! Little island restaurants dotted the river, each on having its own space and separation from the rest of the busy mall.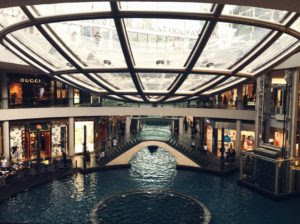 When I thought it couldn't get any better, as I was peering at a three story Chanel, Gucci, and Prada, I saw the one and only, Louis Vuitton Island. Yes, the Louis Vuitton store had an escalator from the mall, underwater to the designer island. Of course, this was my first stop, like a little kid in a candy store for the first time. The store itself was magnificent, it had a full floor for each department and even a museum. They could stamp your bags and luggage on the spot and they were ready in under five minutes. I decided to splurge of the classic, Never Full bag. I mean your not always on a Louis Vuitton Island, are you? I got it stamped with my initials and they even let me do it myself- well he got it lined up but I did the stamping part!;)


I knew this shopping mall was going to upscale, so I wanted to dress up a little more than I usually do. So of course, when in need, pull out a black romper. That's the saying right?
Romper: Shilla $150
Heels: Staccato $215 (found mine at a small boutique in Hong Kong)
Shades: Dior $600 via- here
Love,
KT