Dear Fashionistas,
I've been having a few friends stay with me for the week, and for their first full "LA day" I wanted to show them a good time! Being from out of town, they requested that I plan a day around what I like to do for a casual Saturday. The first thing that popped in my mind, especially for tourists, was the Ivy. It's great atmosphere, food, location, and the paparazzi constantly snapping away, gave the glamorous vibe I wanted my guests to experience. We sat outside on the patio under all the white umbrellas, surrounded by the bright, floral patterns and flowers. 
I just love the warm, quaint atmosphere of the Ivy in Beverly Hills. But  loved the red velvet cake and sorbet, lol! 

For our next activity, I took them shopping at the Grove. It has a bunch of cute boutiques, huge department stores, a diverse farmers market, and is so clean and luxury. My personal favorites are Topshop, Paige, and Barneys, but there are so many more great options too. It was the perfect pick for everyone. 
I have been looking for a perfect 75 degree day to pull this skirt set out, and since it was such a beautiful day, I finally got to wear it out! It's bright, floral patterns brought out all the summer vibes. I even color coordinated with the Ivy!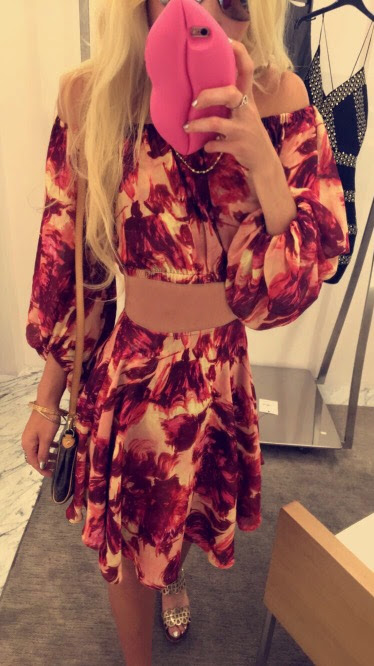 Sunnies: Dior $600 via- here
Top: For Love & Lemons $133 via- here
Skirt: For Love & Lemons $156 via- here
Bag: Louis Vuitton $775 via- here
IPhone Case: Stella McCartney $75 via- here
Love,
KT